Liverpool Archdiocese Justice & Peace Commission
---
STATIONS OF THE CROSS – Ukraine 2022
Written and compiled by the Archdiocese of Liverpool Justice and Peace Commission
Memorial Lecture Peace Sunday 2022
Sunday 16 January 2022 on Zoom from 2-4pm with Dr Lorna Gold
"Daring to Hope: Faith and the Struggle for Climate Justice"
Lorna is an inspiration – she's a Scottish-Irish academic, climate campaigner and author and mother of two boys. She has over two decades' experience of engaging faiths on environmental, climate and economic justice and worked at a senior level in Trocaire, the official overseas development agency of the Catholic Church in Ireland. She is a leading voice on faith-consistent investing within the Catholic Church, supporting the Irish Bishops' Conference to divest from fossil fuels in 2018. Lorna is Acting Chair of the Board of Directors of the Laudato Si' Movement (formerly the Global Catholic Climate Movement) and a member of the Vatican's Covid Commission Economics Taskforce. She lectures part-time in climate justice and social policy at Maynooth University, Ireland. Her publications include New Financial Horizons – The Emergence of an Economy of Communion (NCP, 2011) and Climate Generation – Awakening our Children's Future (NCP, 2018).
Lorna is deeply concerned about our children's future – and especially the impact of climate change. There is no bigger question for citizens, parents and grandparents today.
The World in Crisis:
The Cry of the Poor
Speakers
Dr Sr Gemma Simmonds, The Margaret Beaufort Institute, Cambridge
Fr Dominic Curran, St Oscar Romero Parish Seaforth and Waterloo, Liverpool
---
Romero Mass 2021
Tuesday 23 March 2021 at 7pm
To access the live stream please visit: https://www.facebook.com/RomeroMassLiverpool . You may also access it at the Romero Trust Website: www.romerotrust.org.uk .
St Josephine Bakhita Talk: 9 February 2021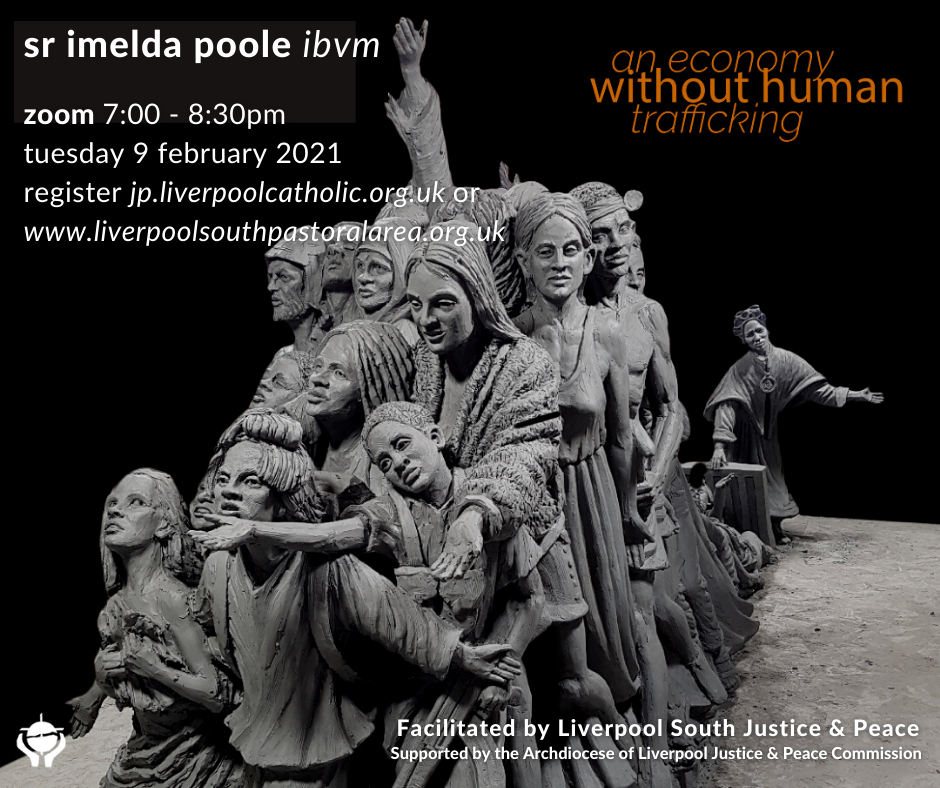 The recording of the evening tackling "An Economy without Human Trafficking"can be accessed directly on our YouTube channel or here.
Facilitated by Liverpool South Pastoral Area Justice & Peace
Supported by the Archdiocese of Liverpool Justice & Peace Commission
---
"A future full of hope amid chaos & uncertainty"
Memorial lecture a roaring success!

Link to Podcast
Sunday 17th January 2021 saw the Justice & Peace Commission present its latest Memorial Lecture. Always a highlight of the J&P calendar, this year was unique in that it was the first held via the medium of Zoom. We were blessed this year to be joined by producer and writer Mary Colwell, who spoke passionately to her digital audience about the urgency of the environmental crisis and about what might be done to combat it.

Engaging, knowledgeable and with a zeal for the natural world, Mary shared with us her passion for one feature of creation in particular: the Eurasian Curlew. Below you'll find her video (with a soundtrack from co-producer and Platinum-selling singer-song-writer David Gray).
Mary stressed the importance of finding something your passionate about as a jumping-off point for getting involved in and doing something about the climate crisis. We'll soon be sharing the feedback from the event including the things you told us you're passionate about. Watch this space!
In the meantime to learn more about Mary,
her new book and her love of the curlew, you can visit:
http://www.curlewmedia.com/

We thank Mary again for her wonderful talk.

Stay up to date with Liverpool Justice & Peace on our socials:
A message below is from our former Fieldworker, Steve Atherton about the Corona Virus.
The Justice and Peace Commission is part of the Liverpool Archdiocese's
Pastoral Formation Department.